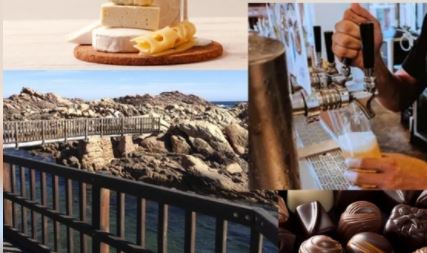 A Unique Margaret River Experience
Thursday 30th June 2022 – hosted by Gannaways Charters & Tours
Join us for a bespoke experience around the valleys and vines of the Southwest, filled with sweet treats, beautiful views, and plenty of tasty experiences. Enjoy a different course at each location in a progressive dining experience enjoyed throughout the day.
Cheese Board and Wine Tasting…
Served from Goon Tycoons, where you will be treated to a tasting of their wines and a cheese board to start.
Scenic Drive…
Then it's time for a scenic drive down to the impressive Canal Rocks for a chance to smell that sea air, take a short walk, or a group photo.
Lunch…
Served by the incredibly scenic and just as tasty Black Brewing Company (Menu provided on the morning to pre-order, drinks at the brewery at own expense)
Dessert…
Served by the warm and cosy fire at Bettany's, indulge in tasting some of their fantastic nougat while tasting a few cheeky liqueurs.
Chocolate….
No visit to the Southwest is complete without a stop in at the Margaret River Chocolate Factory to shop, taste or buy yourself some more treats for later.
Then our Coach Captain will get you back to Busselton around 5pm, content and bellies full.