Situated half-way between Bunbury and Busselton and 210 kilometres south of Perth, the Capel region is filled with stunning scenery, mouth-watering local produce and natural wonders. A popular destination for tourists and those looking for a weekend escape, Capel provides something for everyone, including those with a sense of adventure.
You are spoilt for choice with ways to fill in your days in the Capel region including:
Peppermint (Peppie) Beach – Whether a day out swimming and paddling or watching the sun rise, enjoy the beauty of the white sand and clear calm waters of this popular beach.
Tuart Forest National Park – This strip of tuart forest links Capel and Busselton. Enjoy a picnic at one of the picnic sites or wait to the sun goes down, take your torch and walk the self-guided trail to be up close to the possums.
Forest Adventures South West – Enjoy the great outdoors and soar to great heights amongst the trees with adrenaline filled fun on high rope courses and flying foxes.
Wineries, Restaurants and Cafes – From locally baked cakes and desserts to award winning wines, enjoy a range of delicious and decadent food at a variety of local establishments.
Boranup Forest Maze
Come and try our Mindful Maze Meditation
Come along Caves Road, through some of the finest tall forest and farmland in the South West, and discover the Boranup Forest Maze, nestled on the edge of the Boranup Forest.
Stretch your legs and experience the forest trail atmosphere of the maze which is grown from native and exotic shrubs. Flowering in Spring you can collect seed for your own garden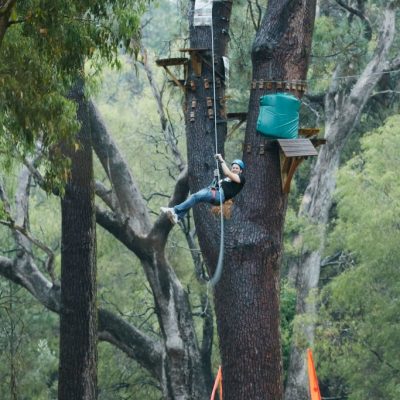 Forest Adventures South West
Forest Adventures is a high rope adventure course park located in the beautiful Tuart forest 10 kilometres north of Busselton. With 77 activities spread over 6 courses of varying height and difficulty, people of all ages and abilities can enjoy a fun, safe and rewarding experience.
Forest Adventures South West offers adrenaline-filled fun on high ropes courses and flying foxes, set high among the majestic trees of the legendary Ludlow Tuart Forest in the beautiful South West of Western Australia.